Marshall Dinkins
Teacher - JH Math and HS Algebra I
Meet Mr. Dinkins:
Greetings students and parents! It is with great joy that I introduce myself as the Junior High Mathematics teacher. My journey with Mathematics and teaching began at Fresno Pacific University, where I received my Bachelor's in Mathematics. It was there that I developed a deep appreciation for the beauty, simplicity, and captivating nature of math to the human mind. I soon discovered that I enjoyed explaining mathematical concepts to others just as much as I loved studying them for myself. Thus began my pursuit of teaching, which has brought me here to Immanuel. It is my goal to provide every student I teach with an unforgettable (in a good way) year of exploring, creating, and thinking as a Mathematician.
On a more personal level, here are a few fun facts about me. I am the youngest of four children and the third in my family to study mathematics. Every day before school I eat a bowl of Grape Nuts to fuel my teaching. I am passionate about global mission and learning from the Church in other cultures.
Students, I believe in you. Parents, I believe in your children. Each student is a capable mathematician and it is my job to bring that to the surface. May God bless us with an incredible year ahead as we journey in education!
Coleen Friesen
Teacher - JH PASS
Meet Mrs. Friesen:
My name is Coleen Friesen, and I grew up in Fresno, California. I earned my Bachelor's Degree and teaching credential from Fresno Pacific University. At FPU, I met my husband David, an Immanuel alumnus, and after college we married and settled in Reedley. We have been blessed with seven children who have graduated from or are currently attending Immanuel Schools. Some of my hobbies are camping at the beach or in the mountains, watching our kids play sports, and singing.
I began my career as a kindergarten teacher and then taught K-8th grade students at a charter school. I also spent many years --14!-- homeschooling my own children. All of these experiences, as well as my time as a real estate agent and property manager, prepared me in amazing ways for the job I hold today. I was thrilled when the Lord opened the door for me to work at Immanuel.
One of my favorite hymns says "Oh love of God, how rich and pure, how measureless and strong..." What a privilege it is to share the immeasurable love of God with students every day!
Hannah Goetz
Teacher - JH English, JH Journalism
Meet Ms. Goetz:
Hi, my name is Hannah Goetz and I currently teach Junior High English. I grew up in the Immanuel community and am so thankful to be able to teach and invest in the place that played a major role in shaping who I am today. After watching the impact Immanuel had on myself and so many of my friends, I knew I wanted to become a teacher myself.
I received my degree in English and History from Texas A&M University. I taught High School English and worked in children's safe homes in Texas before returning to the Reedley area. Since moving back, I have had the opportunity to teach upper Elementary, High School, and Jr. High at Immanuel while being involved in similar ministries to the one I worked at in Texas. I am so passionate about the age group of kids that I get to work with everyday. I love watching students learn, grow, and think for themselves. I love that I get to be a part of helping them learn to analyze literature, think for themselves, and develop their ability to communicate their thoughts and opinions. It is a privilege to partner with their families in helping them grow academically, as individuals, and believers.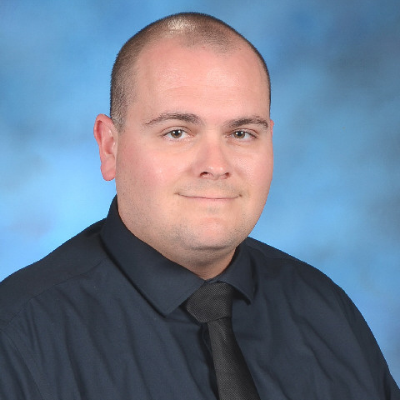 Drew Halstead
Teacher - JH History
Meet Mr. Halstead:
Hello, My name is Drew Halstead. I am the eldest of two children. I was raised in Kerman, California. I attended Kerman High School and graduated in 2005. I received my BA in History from California State University, Fresno. I attended National University, where I received my Single Subject Teaching credential. I spent two years teaching Special Education at Madera South before coming to Immanuel Schools. I currently teach Junior High and High School history classes..
Immanuel is a special place where everyone feels like family. I enjoy coming to work everyday where God guides me in having a positive impact on young people.
I am currently living in Fresno. I enjoy coaching football and spending time traveling with my family.
"Finally, be strong in the Lord and in his mighty power." Ephesians 6:10
Joseph Ibanez
Teacher - JH Industrial Arts
Meet Mr. Ibanez:
Mr. Joseph Ibanez is a lifelong resident of Reedley. He was educated at St. La Salle School and Reedley High School. Upon graduation from Reedley High, Mr. Ibanez was honored as a Pirate Pillar. He attended Reedley College and Fresno State University with a focus on Mechanical Engineering and a minor in Art. He, also, has a degree in Culinary Arts and is an accomplished Chef.
Mr. Ibanez has been in the fabrication trade for over 45 years and continues to own his own fabrication company. Hobbies include athletic officiating and ride his Harley Davidson.
From a young age, he has followed Jesus and as an adult, he proclaims that Jesus is his Lord and Savior.
Janet Laemmlen
Teacher - JH Home Economics
Meet Mrs. Laemmlen:
I am excited to be back teaching at Immanuel after a few years away! It is a joy to share my passion for Christ as well as baking, cooking, and sewing with students again.

I started sewing when I was 4 or 5, following the patterns by the pictures before I could read, and have enjoyed baking, sewing, embroidery and quilting all my life. I attended Immanuel after we moved to Reedley from Kansas, and then went to Fresno State. Early in college Mark and I got married, and I started working with the family fruit corporations as a bookkeeper. After our boys, Dustin, Nate and Jordan were born I was able to stay home with them, until I started teaching Home Ec and Foods here in 2002. In 2013 I felt the Lord leading me to work at MCC, first in the cafe, then in the quilt shop. During those years we welcomed 3 precious daughter-in-laws, Michelle, Tayler, and Amy. God has been so good!
My life verse would be Colossians 3:15 "Let the peace of Christ rule in your hearts...and be thankful."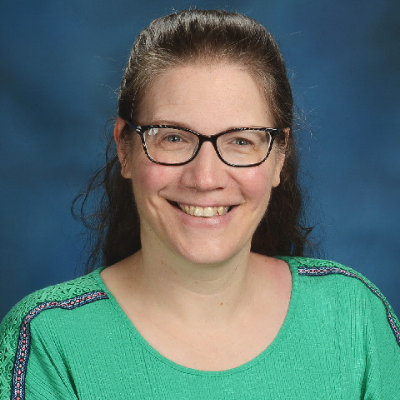 Cyndi Light
Teacher - JH Science
Meet Mrs. Light:
I have been blessed to be part of the Immanuel community serving our students and staff as a teacher. I enjoy the chance to get to know a wide range of students and watch them mature from year to year.
I have been married to my husband, Malcolm, for over 20 years. After we finished school in Southern California we lived in eastern New York for 11 years. We moved to the Central Valley for a ministry position at RMBC and my family currently resides in Reedley. Our oldest, Ben, is an Immanuel graduate and currently a student at GCU. Our other two, Josiah and Simone, are both Immanuel students. Outside of school I enjoy cheering for Immanuel Eagles football (I bring a megaphone and a cowbell), working with the Sparks at AWANA, and I am almost always in the middle of a book.
"I have set the LORD always before me; because he is at my right hand, I shall not be shaken." Psalm 16:8
Jeff March
Teacher - JH Bible and Yearbook
Meet Mr. March:
I live in Reedley with my wife, Eleni. We have four children: Dimitri, Alexis, Zoe, and Sophia, all alumni of Immanuel. I am a native of the Central Valley, born and raised in Kingsburg, graduating from Kingsburg High School and went off to graduate from Trinity Western University in Langley, B.C., Canada with a B.A. degree in Biblical Studies. I completed my Masters Degree in Christian Ministries from Grand Canyon Theological Seminary. I came to Immanuel after spending some time in the military and serving as an Area Director of Young Life in Selma. I have taught at both the High School and the Junior High, currently the 7th and 8th Grade Bible teacher.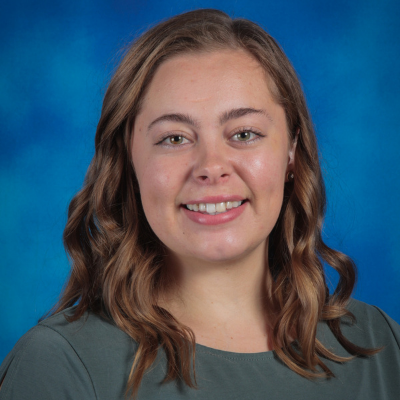 Nikki McArron
Junior High Intervention Aide
Meet Ms. McArron:
My name is Nikki McArron, and I am super excited to be working at Immanuel. I grew up in the Central Valley, and I attended Immanuel from 7th through my senior high school year. I graduated in 2019 and am currently attending Reedley College. I plan on moving on to a four-year college to get my PPS Credential. I knew I wanted to be in the education field when I had the opportunity to be a teacher's assistant in Mrs. James' third-grade class my junior year of high school.
Since then, I have tutored elementary kids in afterschool programs. I have been a teacher's aide for a few different grade levels, I have tutored online, and I was on the Intervention team for Immanuel Elementary earlier this year. I absolutely love helping kids learn in a way that makes sense to them, and I am very blessed to be working at a place that made a huge impact on my life.
One of my favorite verses is Psalm 121:1-2 "I lift up my eyes to the hills. From where does my help come? My help comes from the Lord, the Maker of heaven and earth."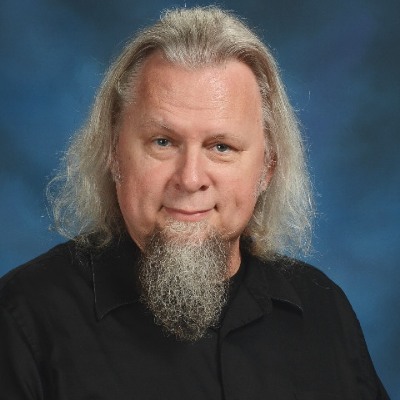 Rick Robbins
Teacher - JH Drama, JH Choir
Meet Mr. Robbins:
Greetings! My name is Rick Robbins and I am the Director of Performing Arts at Immanuel. I graduated from Fresno Pacific College in 1991 with a B.A. in Music Education and completed additional coursework at CSU Fresno for a supplemental authorization in Drama/Theatre. I went on to complete graduate studies at Westminster Choir College in Princeton. After teaching in Fresno for two years, I moved to Selma High School for nine years before joining the staff at Immanuel in 2002.
I have been involved in music and theatre for 43+ years, having directed more than 120 productions and served as Technical Director on many more. At Immanuel, the Performing Arts department has staged 60+ shows since 2002. The Immanuel choirs have had amazing opportunities to perform and minister at countless churches, cathedrals and schools. Our ministry tours have taken us throughout California, New York, Vancouver B.C., England, France, Ireland, Scotland and Italy.
I have served as Worship Leader at three churches since 1992 and have brought those experiences to start and teach the Worship Fundamentals program at Immanuel. Being able to interact with students and guide them through the process of developing their own relationship with Christ, while leading their peers in worship twice weekly during chapel, has been a meaningful experience. It has been a thrill to stay connected with graduates over the years, as many have since become music teachers, worship leaders, singers and technicians.
"Sing joyfully to the Lord, you righteous; it is fitting for the upright to praise Him. Praise the Lord with the harp; make music to him on the ten-stringed lyre. Sing to Him a new song; play skillfully, and shout for joy!" Psalm 33:1-3
Deniele Vanleeuwen
Teacher - JH Art
Meet Mrs. VanLeeuwen:
Hello! My name is Deniele (Croissant) Vanleeuwen. I grew up in the Dinuba countryside where my father was an auctioneer and farmer while my mother worked alongside him. I spent many weekends working at our family auctions with my younger brother. I grew up attending Kingsburg Mennonite Brethren Church. I was enrolled at Grand View Elementary and Washington Junior High. Both of my parents attended Immanuel High School, so I was excited to also attend Immanuel for high school.
After high school I attended Fresno State University, and majored in Fine Arts. Several months later I purchased a retail store (Coffee & Candy) which I owned for ten years in Reedley, until I got married to my husband Todd Vanleeuwen. I am a mom blessed with three amazing children and honored to be raising two of them. My husband Todd and I reside in Kingsburg along with John and Rebecca, they both love going to Immanuel and are always keeping us on our toes. I love crafting, painting and being creative, which is why I was thrilled when God opened a door for me to teach Art and Yearbook at Immanuel High School. I am blessed to be a part of the supportive and caring Immanuel family. Working at Immanuel brings me much joy, comfort and above all the ability to talk about my love for our Lord and Savior!
Exodus 14:13-14 - "Fear not, stand firm, and see the salvation of the Lord, … The Lord will fight for you, and you have only to be silent."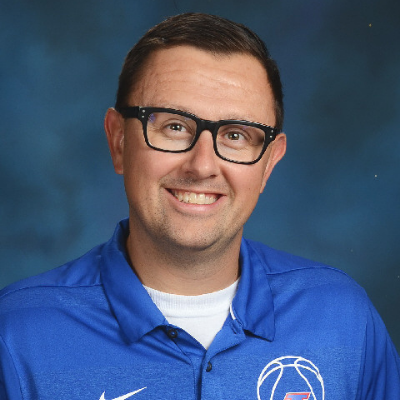 Chris Woods
Teacher - JH Athletics Director & PE Teacher
Meet Mr. Woods:
Hi my name is Chris Woods. I was born and raised in Kingsburg. I graduated from Kingsburg High and then went on to graduate from Reedley College and Fresno State University. I earned my Master of Arts degree from Fresno Pacific University. I am the boys basketball coach and feel very blessed to be a part of the Immanuel Basketball tradition and family. My wife Carly and I live in Kingsburg and are very thankful to be a part of the Immanuel family. We are blessed with 2 amazing children - a daughter and a son. Outside of teaching and coaching I am a big sports fan. My wife and I enjoy traveling and going to baseball and basketball games.